Well it has been a crazy week complete with lots of traveling, and work around the house! We had our first showing this morning, we are hoping it went well! The house has really only been on the market with our realtor a little over a week, so good things are happening! Jordan started his new job this week and is loving it! He has been super busy and will be until he fully figures things out but I think it is a perfect fit! We are looking forward to traveling to see some family this weekend and then back to finish some stuff around the house and have a cook out with friends! I will post more when we return... but now for Five Question Friday!! Sorry I am a little early for it but have a busy day tomorrow!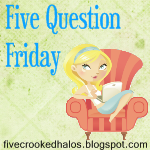 1.
Is there something you've always wanted to try but just can't muster up the courage to actually do yet?
I would love to sky dive or bungee jump, but I really think now that I am a mommy it will never happen! I am way more scared than ever to do anything crazy like that! Jordan has sky dived a TON and loved it, but I do not think he will ever do it again since he has a family, but I am sure once the kids grow up and see the videos of him doing it they will want him to do it with them...Maybe we will do it together with the kids when they are older... haha probably not though, I would seriously pee myself before being able to muster the courage to take the actual jump!
2. If you had $100 handed to you in cash without your significant other knowing about it, what would you spend it on?
Probably clothes for the boys, it is truly my favorite thing to shop for! Plus he never pays attention to what clothes I buy so he would never notice! haha
3. What was your favorite piece of playground equipment as a child?
The random bars they have at different levels they worked perfect as the uneven bars minus the mats below, we always did our gymnastics routines on them.. lol we were total dare devils back then! I loved it!
4. Do you prefer a sweet or hearty breakfast?
It really depends on my mood, I have started making good hearty breakfasts on Sundays with bacon and eggs and I think I will continue that but most mornings I have cereal or waffles with fruit!
5. Are you a Neat Freak or a Messy Bessy?
This totally depends on how much sleep my body has had. Some days I am totally anal about everything being in it's place and some days I could truly care less! I am a happy medium between the two! It is way to HARD to be a neat freak with a toddler who moves everything the second you put it away! Maybe once they are in school I will return to being a neat freak but until then I will be enjoying my kids and worrying about the mess later!