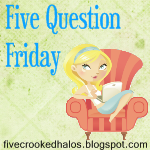 1.
What is one food you could eat everyday?
I think I could truly eat Steak every single day! I love love love it! I could probably have corn everyday too! And lets not forget some sort of ice cream! So I could do steak, corn or ice cream everyday!
2.
Are you working in the career you thought you would be when you were 18?
In a round about way yes, I started college wanting to be a teacher, then decided that really was not for me. I still consider going back to finish my degree to maybe work when the kids are in school but do not really feel like I would like it. I always knew I wanted to be a stay at home mom once I had kids so I am blessed enough to be doing that. I am right where I want to be now, raising my kids and being there every single step of the way. I guess in a way I am a teacher, to my children.
3.
What is something that you wish you would have done when you were younger and you didn't?
I really wish I would have spent more quality time with my grandparents...I was always so busy with cheerleading and games and stupid stuff that I really only saw them on holidays or family functions, I lost 3 grandparents from my junior to senior year...If I could go back I would have spent so much more time with them and listened to all their stories of their lives back when and really soaked it all in...biggest regret ever! I think that is why I have such a big heart for the elderly and truly soak up every minute I get to listen to them, my favorite thing about our parish is we have a retired priest, who is the MOST interesting man I have ever met, he always tells us stories, I could listen to him for days...
4.
What color are your kitchen walls?
My kitchen walls are tan right now...when we move I really want them to be a nice shade of grey...with white cabinets, stainless steel, and dark counters, then accent with yellows, but it really depends which house we get, but I totally dig the cool grey colors out now!
5. Do you remember what your very first favorite song was?
Oh gosh... who knows, I was obsessed with Aqua and The Spice Girls in grade school, so probably something really cool by them! :)
Hope everyone has an amazing weekend!! I am so pumped it is Friday! The hubby gets back from his second week in Tampa! Cannot wait to have him home!! :)