It feels so good to be back in our own home! Traveling with Jordan for a few days was fun though! We got to spend time with both our families!! Vincent was a great little traveler, even though 2 of the nights he spiked a high fever around 104! I am still not sure what spiked the fever, but it is gone now. Curious if it was from his teeth, but he has never had a fever with teeth so who knows! All I know is I am very grateful that he is feeling better! We all enjoyed sleeping in our own beds last night, Vincent even slept in til 10:45 this morning!! It feels good to be home!
We have a weekend full of nothing and I could not be happier! We only have 4-5 weekends before Luke arrives! I would LOVE for him to come early as he is feeling HUGE! I never remember feeling this big with Vincent! Maybe it's the darn heat! Note to self : Avoid being in your third trimester during the summer!! :) I loved being pregnant in the winter with Vincent, I could wear big comfy clothes, and now I am sweating so much in EVERYTHING I wear! I just want to wear a bikini everywhere I go...not sure if people would really enjoy that though! :)
Here is what Luke is up to this week:
Your baby doesn't have much room to maneuver now that he's over 18 inches long and tips the scales at 5 1/4 pounds (
pick up a honeydew melon
). Because it's so snug in your womb, he isn't likely to be doing somersaults anymore, but the number of times he kicks should remain about the same. His kidneys are fully developed now, and his liver can process some waste products. Most of his basic physical development is now complete — he'll spend the next few weeks putting on weight.
I am very excited to meet our little melon in a few short weeks!! EEEEEK! :)
In home selling news, we dropped our price and had another showing this week, we are in no rush at the moment to leave since we want to have Luke at our hospital here, I am sure we will get even more aggressive with the price once he arrives.
As far as home buying we have found some great places, we even found a new town that we would like to live in! We really want to be on the lake and it is looking good that we will be! I am glad we have a lot of choices! I was stressed for a few weeks about it, but I know when the time comes we will find the perfect place!
That's all going on for now... that I can think of! My mind is so out there when I am pregnant so I am probably missing a lot!
Well I figured since I am typing I would jump in on the 5 question Friday!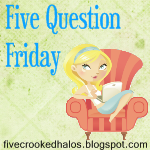 1.
Do you collect anything? Not really... I guess the only thing I would say would be considered collecting is collecting clothes for the boys ahead of time! I love, love, LOVE buying them things I find on clearance for next season! I got Vincent some amazing stuff from Baby Gap the other week! I found $4 polos! I was in heaven, so needless to say he is ready to go for awhile!
2. Name 3 celebrities that you find good looking.
Sean Connery, Richard Gere and Zac Efron... broad range I know, but I really do not think too many celebrities are better looking than my husband! :) :)
3. Do you have any scars? If so, what's the story behind it (them?)?
Yes, I have one on my foot from getting stiches from doing gymnastics in my bedroom and I also have some stretch marks from having Vincent... they faded pretty well, lets hope these new ones do the same! :) I call them my mommy marks!
4.
What is a food that you like to eat, but others might think it's gross or weird?
I love to dip fries in honey... yum!
5. Have you ever seen a tornado in real life?
NO WAY! If there are sirens, I am DONE, in hiding position! I hate bad storms, they really make me want to cry!