I am in LOVE with this recipe, as does my husband and Vincent! I have made it twice in the past week and plan on making it a weekly thing! I would highly recommend it for any dinner, the white wine sauce is TO DIE FOR! We even dip the vegetables we eat with the meal in it! We all have a clean plate at the end of dinner!
I usually get a pound of chicken breasts or whichever I can find with 4 breasts in the pack. I pound the breasts to make them not so thick and big enough to wrap up.
I then take 2 pieces of thin sliced ham and 1 piece of swiss (split in 2) and roll them, make 8 rolls of ham and swiss
I place 2 rolls in the middle of each chicken breast then roll up the sides and place toothpicks to secure it. It does not have to be pretty, trust me mine look a total mess!!
Then roll the chicken as best you can in the flour.
Heat the butter in a large pan on medium to high heat, add the chicken and brown on all sides. While the chicken is browning I sprinkle all sides with Paprika, and a little salt and pepper.
Once the chicken is browned add the wine and chicken bouillon cube, simmer for 30 mins or until chicken is no longer pink
Place the chicken on a serving dish and mix the corn starch and cream into the left over wine sauce with a whisk, and bring to a boil until thickened.
And your done! Pour the sauce over your chicken, we smother ours!!
I served it last night with steamed asparagus and minced garlic. Delicious! Hope your family enjoys it as much as mine did!!
Now onto 5 Question Friday!!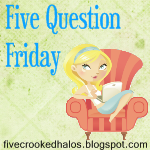 1. What is your favorite Halloween candy?
My favorite Halloween candy is mini twix bars! I LOVE THEM, along with mini snickers and twizzlers! They are all so good! And I forgot those little caramels with the white cream in the middle are pretty tasty!
2. Do you fold your socks?
No lol I always think of little school girls when I see rolled socks! I just get the low rise socks, those typically work best for me.
3. What is something that you wish you had been warned about?
All the horrible things I did not know about the food I have been eating for years, I am on an organic kick lately and have been taking a lot of interest into what I am putting into my family's body. I have been reading Omnivore's Dilemma and am in shock of the stuff I am learning, I guess I never really thought about where meat has come from and what not, but lately I have been reading about how the cows are raised and fed grains and all sorts of antibiotics when cows are meant to be grazing on grasses and their bodies cannot take the switch to corns and grains so they have to pump them full of antibiotics. It just freaks me out and I do not want my kids ingesting those things their entire life. So I think I just wish I would have been more informed about the process of our food chain and how insanely it has gotten out of control and how the industries go to such crazy extents just to produce more. I would rather pay more for natural than take a toll on our bodies just to save a few dollars.
4. What is the most significant difference between you and your significant other?
Well clearly he is a boy and I am a girl so that is pretty significant of a difference! ha Just joking, I would have to say he is VERY organized and on time and I am the exact opposite, I lose things every 5 minutes and am always running behind even though I am trying my hardest to be more organized and punctual because I do not want my kids to form the bad habits I have!
5. What are three words you would use to describe yourself? (And, just for fun...if your significant other is around, ask him/her what 3 words they would use to describe you!!)
I would say outgoing, crazy, loving....Jordan's answer was short, forgetful and crazy haha! He knows me all too well!
Hope everyone has an AMAZING weekend! xoxo