Boy oh boy...I have so many shows that I love...I will just pick my top categories!
First I have my "teen" shows
Jordan makes fun of me all the time for the teenage shows I watch for example I love 90210, Secrets of an American Teenager and Make it or Break it! I love 90210 since I grew up watching the first series of it so that means I have to watch the new series right?! haha Sounds good to me because I love it! Now with Secret Life I really do not know why I watch it, it just sucks me in, I mean the acting is not that swell but I always seem to want to keep up with it....sometimes I fastforward through the lame parts...I am really just interested in Amy and Ricky! Make it or Break It is a given since I did Gymnastics and Cheerleading my entire life, I love it! I must say out of all my "teen" shows that Make it or Break It is the best...I cannot wait for the next season!
Second, I have my love for REALITY TV!
The Real Housewives of NJ, OC and DC had me hooked! I loved them! New Jersey was by far my favorite and I love Theresa! She is amazing! DC started off kind of slow but I loved Cat and her honesty! I am hoping DC or NJ comes back for another season because I love their drama! Next in reality world is Teen Mom, I was totally hooked on this show! I love to see all the moms and their babies! At first I really did not care for Farrah but this season I began to like her more! I think that is it for my reality fix!
Semi-Reality shows, lol I know these shows are probably staged but that does not make me love them ANY less...Keeping up with The Kardashians, Guiliana and Bill (Jordan is just like Bill!), Tori and Dean (I am just like Tori minus the fake boobs and tan! haha), and Kendra! All of them have special places in my heart! It is pretty pathetic because it is like I know them personally at times haha! They really suck me into their lives! Darn them!
Shows that my husband will ACTUALLY watch with me!
There are actually a good chunk of shows that Jordan and I love to watch together...our main one right now is Prison Break, we had watched the final season last year and never caught the full story line of the first seasons and fate has it that they have 2 episodes (reruns) a day on and we got to start at season one a few weeks ago! Talk about addicting! The first season was truly amazing! I love it! We are in season 2 and its still solid! I already know how it ends but its nice to fill in the blanks!
We also love Auction Kings and American Pickers! Those shows totally suck me in! I love all the crazy things they find and the people that they meet along the way! I love Auction Kings because you actually get to see the price the items sell for! It makes me want to go find some treasures of my own!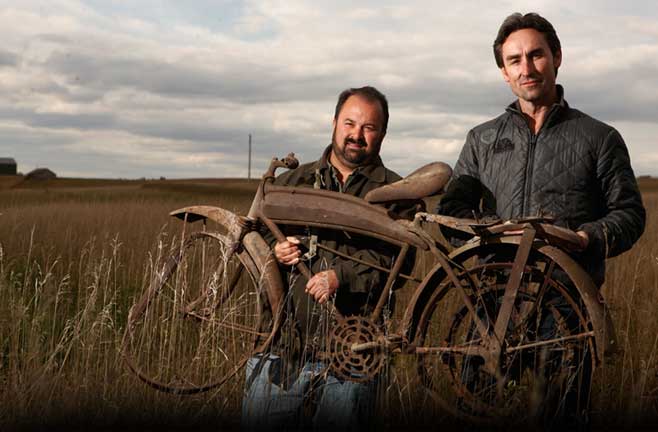 Okay and last but not least....Parenthood! I did not watch the first season but I fell in love with it this year! I love all the characters and it is a true good hearted show!
Whew!! That is all...thank God for DVR so I can semi keep up with all my shows! I know I have a crazy variety but I love them all for one reason or another, they all suit my crazy personality!