You are jumping up and down clapping like a crazy person screaming "YAY POO POO" when your 21 month old looks at you and says "poo poo" then makes the *I'm pooping* face (you know the one where they turn beat red) and grunts, then proceeds to go #2 in his diaper, we both squeal and run around, he then proceeded to lay down while I ran to get a diaper and we changed it, and continued on with our happy time! Just recently he has been laying down, no questions asked when he thinks it is time for a diaper change, he just looks at me like "Hey mom I peed in this thing and want a new one"...
we are totally onto something...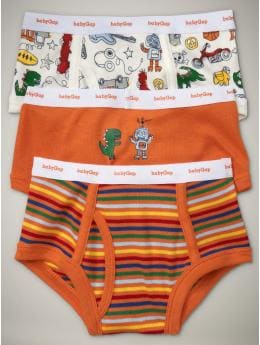 I must say I am a little over excited to buy BIG BOY undies, they are SO STINKING cute! I think it may be more exciting then a trip to Victoria Secrets! ha! I love having reasons to head off to Baby Gap! Thank you potty training!!....
Am I the only crazy one out there who gets super pumped for BIG BOY underwear shopping??
**HOLY MOLY, I just re-read this post and have to point out little Vincent is not a 21 month old....he just turned 22 months today lol! Great mom skills!:) That second birthday is creeping up **