A few weeks ago I made a few things from the new TLC show "The Kitchen Boss", I love the Cake Boss so I was so excited to see he now has his own cooking show. His recipes are pretty straight forward and not too insane like I find some of the cooking shows to be, he uses ingredients that I HAVE actually heard of, I feel like some cooking shows use crazy insane things I have never ate or even heard of. Anyways here is the recipe for his banana cream pie! It was delish!
1- baked pie shell (I cheated and did a graham cracker crust one---SO GOOD)
1 recipe of Carlos Custard- well chilled
1 recipe Italian Whipped Cream
Handful of chocolate chips (my special touch)
5 extra-large egg yolks in a medium bowl
2/3 cup cake flour, sifted
Have all of your ingredients measured and ready. In a deep saucepan (3 qt), bring the milk and vanilla to a simmer, turn off heat. Whisk the sugar into the eggs. Stream the cake flour into the eggs while whisking well to incorporate. Ladle approx. 1/4 cup of hot milk into the egg mixture, whisking continuously to combine well. Repeat with another ladle of hot milk.
Pour/scrape all of the egg mixture back into the saucepan of milk and return to med-low heat, whisking continuously, making to sure reach the bottom and bottom sides of the pan. Mixture will thicken within a minute, continue to whisk another 30 seconds. Whisk in 1/4 stick butter, lower heat and whisk until quite thick, another minute or two. Remove from heat. Chill custard well in fridge before use.
**MAKE SURE IT IS COMPLETELY CHILLED...I DID NOT BECAUSE I SOMETIMES RUSH AND MINE WAS RUNNY!!!**
Put the cream and sugar in a bowl and whip with on high speed with a hand mixer fitted with the blending attachments. Do not over mix or you'll end up with butter.
The cream can be refrigerated in an airtight container for up to 3 days. Whip by hand to refresh before using.
Put the custard in a mixing bowl, whisk to smoothen, and use a rubber spatula to fold in half the whipped cream, making a French cream.
Spoon the mixture into the pie shell. Cover the pie with the remaining whipped cream. Place bananas around the edge and sprinkle your handful of chocolate chips!! It is SO TASTY!!
I did not do the recipe and decorate the same way Buddy did on the show but holy moly did the pie taste great! I hope you all enjoy it!
Alright 5 Question Friday here we go!!
1. Do you know what your REAL hair color is? Yes it is my current color now! I used to do highlights and all that jazz but I cannot handle the upkeep, plus I found myself always wanting my natural color back and now I have it. Sometimes I think about highlights but then I remember how annoyingly long it took to get it back lol!
2.
Do you plan ahead for summer, or fly by the seat of your pants?
I plan ahead as much as I can for vacations sake but as far as the day to day thing I just wing it! I know there is a lot of activities I want to do with the kids but do not have it set in stone. Jordan's schedule is so crazy that I do not know when he will be home or what not so that is mostly why I wing it unless it is a set vacation!
3. What is your favorite meal to cook?
I do not think I have a favorite meal that I cook, I love cooking every meal! Sometimes I do enjoy the easiness of salads and crock pot meals but I am equally excited for each meal! lol I do GET EXCITED for baking though...you can never do enough baking!
4. Do you get offended by not receiving thank yous?
No, not really. I never really expect a thank you note, usually if someone says thank you right when they receive it that is enough for me. Save your postage and card haha! It is nice to receive one in the mail but usually it just goes right in the recycling, no offense! But I do try to make sure we write thank you notes for gifts, its a good lesson for kids to do.
5. How did you meet your best friend?
Who to pick lol, I will go with Cassandra for this one. Cassandra's mom used to babysit my brother and I so we grew up together. We used to leave notes for the Ninja Turtles in a sewer grate in front of her house, we totally thought they were the real deal. I think she is the first person I ever had a sleep over with! We had a
lot of fun during our childhood. I went to a different school but came back in Junior High and High School and she was younger but once she got into high school we cheered together. We pretty much did EVERYTHING together from that point on. We both have a LOVE for baking and we both were the masterminds behind doing my wedding cake! which was insanely time consuming! lol Now we live in completely different states and I miss her tons. We are going to Charleston this spring and she and her boyfriend are coming to visit us there! I am pumped, nothing like seeing your best friend!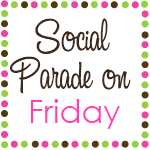 One last item of business. Luke is now doing the scrunchy snorty face. At one point him and Vincent were both doing it at the same time at the dinner table.
Funniest. Thing. EVER.
HOPE YOU ALL HAVE AN AMAZING WEEKEND!! XOOX