I have decided to post "my take" on certain topics each Tuesday!
I shall call it .....My Take Tuesday!
Clever stuff, right!?
My first topic is breastfeeding...
(that picture makes me LAUGH)
When I was pregnant with Vincent I knew two things for sure...
I wanted to go all natural and breastfeed...
After I succeeded the first I was more than ready to take on the "battle" of breastfeeding...
(side-note: I refer to a lot of mothering things as "battles")
Because it truly is a battle...every day of it...
but it is so worth it...
I had no idea what to expect going into breastfeeding but I tried to read up and learn all that I could...
I heard that starting breastfeeding ASAP after birth was a key...
as soon as I got my hands on both the boys I started the process...
Vincent took right to it...thank the Lord...
I thought I had won the battle right out of the gate...silly me.
Then the pain came...the milk supply kicked in full effect and my boobs hurt like HELL!
I loathe that feeling....it's equivilent to the "ring of fire" during birth.
And when you are in that painful stage and they have trouble latching on (Luke!!)....
HOLY HELL....
I could not even handle it...I would seriously cry and get so frustrated which did not HELP at all...
I just had to suck it up for the time being...
While you are in the hospital...ASK QUESTIONS...have the lactation lady come in and help...
I think that was a BIG key for me understanding with Vincent...
The more you feed your baby the less it hurts...
After the weeks went by it came natural to me.

My one kind of downfall (if you will) is that I am super closed off when it comes to breastfeeding?
ANYONE ELSE LIKE ME!?
I am NOT a very open person with my ta-tas hanging out...
I always hide out in my bedroom feeding when anyone but Jordan is around...
During mass or if we were out to dinner and the baby would need fed I would no joke go in the bathroom and sit in the stall...
I do not know what my deal is...
and I know some ladies think hiding out is not cool or fair to breastfeeding moms, but I say do what you feel is right for you and the bathroom stall is my friend...
I thought in time it would change but I was the exact same way with Luke...
I do not feel weirded out if my friends breastfeed near me...
My friend Chrissy is my idol she can walk, breastfeed and carry on a conversation...baller
I kind of envy others being so laid back with it...
I am such a loser haha
But I feel weird doing it in front of people...
I guess I just envision the worst case scenario like the entire church seeing my ta-tas!
I am crazy if you have not caught on to that yet....
Maybe with babe #3 I will be more laid back since I will not be able to sneak away as easily....
Who knows...
So I have zero advice on breastfeeding cover-ups...if you have advice on some...HOOK ME UP!
Here are things I have learned and can give advice on...
*Breast Pads are a must...
Don't be stupid like me.... I ordered some like this from etsy...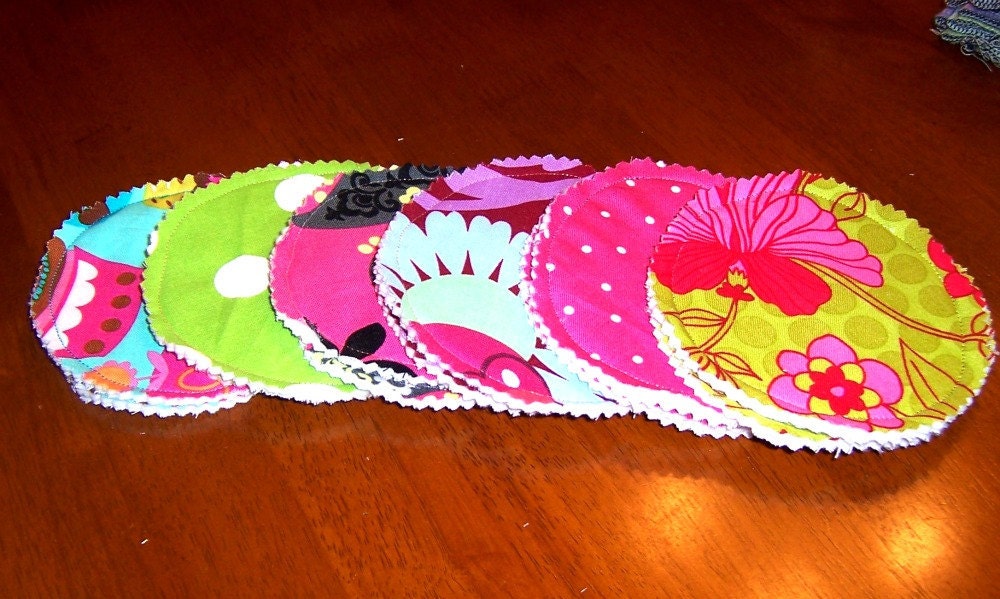 Cute right!?!?...
Ya, that is ALL they are...CUTE...
It is NOT so cute when you leak through your dress at church right before walking up to communion...
So save yourself the embarassment and get ones that ABSORB...
My faves are Lansinoh Breast Pads
They absorb the milk and turn it into this gel...no leaking here ladies!
*Nursing Tanks are where it's at...
My faves are from Gillian & O'Malley @ Target...this is ALL I wore for the first few months...
They are so quick and easy to use and they layer perfectly!
I always got a smaller size to slowly bring by belly back into shape...
*BYE BYE Baby Weight....
I lost all my baby weight (or within 5lbs) within 3-4 months...
You may think "Oh she must not have gained a lot"
Well you would be VERY mistaken...
I really took the eating for 2 seriously....
With Vincent I gained 70 and with Luke it was 50-60...
I do not like to work out at all so clearly the weight loss came directly from breastfeeding!
(or so I like to think) But I think it had A LOT to do with it because you burn A TON of calories producing.


*It's easy....
Once you get over the tiny painful period...
You never have to warm a bottle up...or search for pieces and parts to bottles..
(I am notorious for losing those little pieces...ugh)
Your cafeteria is open 247!...
My husband refers to me as the cafeteria while I am breastfeeding haha...
*Cancer Protection....
Research shows that breastfeeding lowers your risk of some breast and ovarian cancers..
Clearly I am not a doctor...
But anything that is beneficial for my babe and also ME is ROCKING!
*Get a GOOD PUMP...
I stay at home so I really did not need a pump...it was more for me to get a break and others to feed...
With Vincent I just bought a cheapo single pump and it sucked...literally...but it got the job done...
When Luke came I demanded a good pump...
I got the Ameda Purley Yours Double Pump...
((gates of heaven opening and angels singing))
All I can say is WOW....This bad boy would pump 8oz in 5 minutes...
My old POS would take probably a half hour to get there!
I love this pump...I have heard amazing things about Medela Pump in Style...
A good pump is worth the money!!
I hope I did not miss anything but if you are pregnant and trying to decide what to do,
Give breastfeeding a shot! It is rough at the beginning but the rewards are worth it!
Do you have any tips or tricks to make breastfeeding better?
Let me know about those covers ladies!?
XOXO
Next week I am going to discuss: Natural Childbirth...yee haw!