GET EXCITED LADIES....
& GENTLEMEN for that matter ;)
If you follow Kay, you already heard the news last week!
We are teaming up to do a weekly link up.
What will we be talking about you may wonder?
Pets, no way...I would have nothing nice to write about my dog who continues to pee on everything!
Crafts, I wish! My pinterest board makes me feel lazy haha.
Husbands and Significant Others....YES!!!!
We will be talking about literally the most important aspect of our lives.
Because without my amazing husband, I would not have my 3 amazing children.
It all started when we fell in love.
That's why it's time to get back to those roots.
Not saying that focusing on your kids and work is not important,
But I feel like husbands sometimes get lost in the blogging world and pushed to the sidelines.
Maybe it's because they don't have cute chubby cheeks and slobbery faces?
Whatever the case, Kay and I are changing that....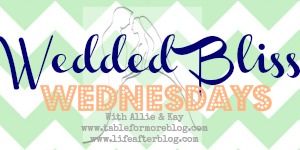 Each week you can blog or even VLOG (which I will be doing most often)
and link up and show off your amazing husband or man!!
We can exchange tips and tricks and just have fun talking about our loves!
Let's grow all of our marriages by learning from each other!
THIS Wednesday (10/3) will be our FIRST link up. Answer the questions below, grab a button, get your posts ready, and come back next week to link-up!!
You can vlog your questions, write your questions, interview your husbands, let your husband guest post - get creative!! We cannot wait to read/watch what you have to say!
The deets:
Chances are, your readers know all about you! But what about your husband? Lets give our men the spotlight this week and introduce the blog world to your other half!
Is there a question on here that you want to add?! Feel free! Let us know what you think we need to know about your man!
Introduce us to your husband! (What's his name? How old? What does he look like?)
What is your husband's favorite thing to do?
What does your husband do Monday-Friday?
What was the FIRST thing you noticed about your husband when you met?
What is your husband's BEST quality?
What is your husband's biggest pet peeve?
How does your husband feel about blogging?
What is something you do/can do that makes your husband feel loved?
NOT MARRIED YET? It's fine!! Still Join in on the fun!!