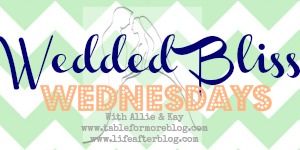 Thanks so much for linking up! We are so excited to have you (and your marriage) We want this to be fun and exciting, so please let us know if there is anything you want us to add! Make sure you try to follow everyone who links up and also Kay and I!
((I have had a nasty flu virus so I am so FAR behind from commenting on everyone last week
Please forgive me!! xoxo))
Let's get started with Marriage Advice!
If you could give one piece of advice to any married (or soon-to-be married) couple, what would it be?
COMMUNICATE! I know it's the most common advice but it is so true! We cannot read minds, sometimes we are upset and hold it in, without our husband knowing or vice versa. That is bad news bears, my friends. TALK. Talk all the time, if something is bothering you, tell your husband/wife. Playing the guessing game on emotions is not only childish, it ruins your relationship! Make it a point each day to ask how your husbands day is going and discuss and LISTEN. Hands down, one of the keys to a successful marriage.
What is an absolute MUST for any marriage/relationship?
RESPECT eachother. The worst thing I can ever see in a relationship is lack of respect. I know, I know, we are not always going to agree with our husbands, but respect them and their decisions. I think if you do not have mutual respect, you have nothing. So please, please respect your hubs and men respect your ladies!
What is the #1 no-no in a marriage?
CHEATING. I mean come on. That is obvious. It makes me SICK to ever hear about men or women cheating. But let's be serious, it happens. And there are different degrees of cheating, I am one who thinks going to a strip club is cheating. Not only disgusting, it is a total lack of respect in my eyes to your wife. But, I hear stories ALL THE TIME, my husband is in sales and the wonderful mess I hear makes me sick. Also to the women who work with married men, do not hit on them. You are a disgrace if you hit on a man with a wife and children.If you wanna have multiple partners, don't get married. Have respect for the
sanctity
of marriage, please!
What is the biggest lesson you have learned from your marriage?
NEVER. I REPEAT. EVER. compare your marriage to another. We are all different. Just because so and so's husband gets coffee with her, does not mean Jordan all of a sudden should like coffee and go to Starbucks at my every demand. We are do different things, and we all do things that work for US.
If you are looking for Mr Right, please be on the look out for men who will be great fathers! I cannot stress this enough to my single friends. That is hands down one of the most important qualities. Jordan is not only an amazing husband with abs of steel, he is the best father. He plays with the boys, teaches the boys and spends every waking moment away from work with them. I would never be able to function as a mother without him! So please, choose your men wisely! I cannot imagine this journey without him by my side! Love you babe!
Next Week's Questions:
We thought it would be fun to flip the script!
We found out the first week that not everyone's husbands LOVE the whole blogging thing, but in whatever format (vlog, pen & paper, full on guest post) it's time to hear from the men!
Have your husband answer some questions about you/your marriage and report back on his answers!
What was the first thing you noticed about your wife?
When you first started dating your wife, what kept you calling/asking her out?
What is your wife's best quality?
What is your favorite thing to do with your wife (ahem, keep it clean!)?
What are you most excited for for the future with your wife?
How do you make your wife feel loved?