Thanks so much for linking up! We are so excited with the amount of people we had last week! If you guys have any ideas or questions that you want us to use one week please let us know! We want this to be fun and exciting! Make sure you try to follow everyone who links up and also Kay and I!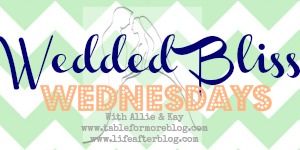 Now onto DATE NIGHT talk!
How often do you and your husband have a date night?
We rarely if ever have a date night! I actually just booked one for a Murder Mystery Dinner next month out of the blue, probably the first real "date" in a few years. But in all seriousness we exchange monthly date nights for vacations with just the two of us! This year we went to England for a week and it was heavenly, we knock out all the missed date nights in a vacation with just us two! I love it!
What did you do on your first date?
Well, we had a double date hang out type situation! haha! We went to BW3's with our mutual friends then no joke ended at his apartment playing Wii! It was perfect in my eyes, it was just us being us!
What is your favorite kind of date night?
Dinner that I do not have to make!:):) I would much rather hit up a local diner (or order pizza) than a classy steak house. I am a total laid back person. Sure, sometimes it's nice to get dressed up but I would much rather be comfy.
How do you do date night on a budget?
My favorite thing to do is go on a picnic! It is so easy and so much fun! We do it with the boys a lot, we will just pack up our normal dinner and go to the park! It feels special and unique. I feel like you do not have to spend a lot of money to make memories.
I remember when we were dating we would just get a bottle of wine and hit up nature parks just strolling and talking. Nothing fancy, just us! I feel like any time we go out to a fancy dinner I just feel awkward. I hate being in a stuffy room with strangers. I feel like everyone is judging. SO ANNOYING. I would much rather be in my element and comfortable.
What is the best kind of date your husband could surprise you with?
Really, in all seriousness just a night at home. Sometimes we just drink wine and play Clue.
That in my eyes is perfect!
I cannot wait to read all your answers.
Are you guys like us? More laid back approach to date nights!?
Also the link up will be available for an entire week so if you miss it Weds, do not fret! You can join all week or jump on next week!
Next weeks questions: Marriage Advice!
If you could give one piece of advice to any married (or soon-to-be married) couple, what would it be?
What is an absolute MUST for any marriage/relationship?
What is the #1 no-no in a marriage?
What is the biggest lesson you have learned from your marriage?