Hey guys! Thanks for coming back again for another week of Wedded Bliss Wednesday!
We are so excited to have you guys here talking about your marriage!
Make sure to follow Kay and I and
also try to follow everyone who links up!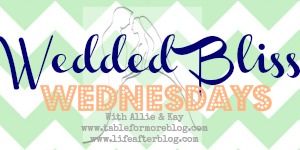 Let's get down to this weeks questions!
CHILDHOOD EXPECTATIONS OF MARRIAGE!
1. When you were a child what did you imagine YOUR Prince Charming to be like?
I am sure this will be a lot of ladies answers. I always looked for someone like my daddy!:) He was my prince charming growing up! I wanted someone exactly like my dad, respectable, caring, hard working, and honest.
I also always thought Aladdin the cartoon character was a dream boat so he was my Disney prince charming!
2. Does you husband match your prediction as a child?
He actually does. They have a LOT of the same characteristics! Honest, hard working, amazing father! As far as Aladdin goes, Jordan is magical and mystical just like him! And smoking hot! Oww Oww!
3. What about when you were a teenager and knew it all about love, does you relationship match that scenario you had during those rebel years?
I think I was attracted mostly to the popular jocks. Seriously I am in shock with the guy I dated in high school. He was not bad by any means but looking back I should have never been with him. Now that I know what red flags are, I should have broken that relationship off on the first flag haha!! He would have never
stood
a chance as husband material
4. What love movie would you best match your relationship to? Why?
I wanna say the Notebook because hello, that movie is amazing!
I would have to go with the movie UP!:)
Seriously that couple had such an amazing strong love. I loved their story and I hope that one day Jordan and I will be telling our love story like that!
Next week we are talking about Our Men as DADS!
(whether they are already or in the future!)
1. What is/will be your husband's best trait as a father?
2. What is/will be your husband's favorite thing to do with the kids?
3. How does/will your husband help out with the kids?
4. What do you hope your children learn from their dad?