Hey ladies!! You may notice a few things today!
1st of all, I have not blogged since last week! Thanksgiving was hectic and I literally did not even take pictures! That shows how crazy it was! :( We are in the midst of moving and it is chaos! I will do a post on all of that at some point, but we should be in the new house in a few weeks.
2nd and MOST IMPORTANT is my new blog design! I am obsessed with it! It was done by my all time favorite, Kayla over at
Life After
! Clearly we love each other because she is the co host in this fab link up! Check out her amazing design work on her site! I am totally having her do my photography site too! And have her do yours while
her prices
are LOW!! She should be charging wayyyyy more for all the work she does! So get on it and rock out a sweet design like mine!
Now onto Wedded Bliss Wednesday!
(Funny side note my husband pointed out, before we had kiddo's I became a certified wedding planner and my "business" was going to be called "Eternal Bliss Events", he just thought it was funny because now we do Wedded Bliss Wednesday!)
So grab a button and link up!
Make sure you follow Kayla and I and follow everyone else if you can!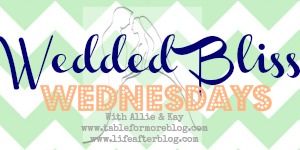 Today we are talking men's fashion!! Ohhh la la!
What is your husband's style?
What is your LEAST favorite piece(s) of his wardrobe?
If you have a picture show us!!
What would you love for your man to wear?
**I opted for the vlog because crazy man Luke is awake which means typing is not an option!**
For the rest of the holiday season we will be doing themed questions!
(if you have any ideas, leave them! haha)
Next week is one question!
If money were not an option (say, you won the lottery) what would you buy your man?
PS I wanted to share the current state of my laptop,
another reason I am not blogging as much!
(It's really fun to edit my photography pics on...NOT)
That was also thanks to Luke! Bull in a china shop I swear!
(my laptop is only a few months old as well!)
Luke is lucky he is cute haha!