Is your blog in a rut? Mine was!!
Let's be serious, the first thing people notice is your blog design.
I had no "design", mine was just something I threw together and my layout
was anything but easy to navigate, which probably turned readers away!
I had never had anyone "design" my blog before but holy smokes,
It was so much easier than the countless hours I have spent over the years stressing about how to do this or that and how to copy and paste codes and all those annoying technical terms.
I literally picked a color pallet and Kay ran wild with the design!
I wanted something boyish yet semi girly, I like the color combo I chose!
I literally did NOTHING. She uploaded all of it and did all the work!
It was so amazing to wake up to a fresh new design!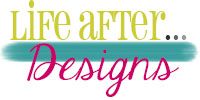 Anyways enough talk,
Kayla is offering a great deal to get her design business up and running!
25% off her Complete Blog Design Package!
That is ONLY $30 for a complete blog makeover!
This is for my readers only!:) Offer will be valid until Jan 5th!
Email Kay @ lifeafterblog@gmail.com with the subject line TABLE FOR MORE.
Tell your hubs this would be a great gift for the holidays, I swear you will not be disappointed!!
xoxo