Hey ladies, Welcome back for another week of Wedded Bliss!
I seriously love this link up!
(Obviously it's the only post I have been doing lately)
But, I just love shining light on our marriage.
I am usually talking about kids and myself, so it's nice to turn the tables!
Obviously I would not be a mom and a wife without my sexy man!
So grab a button and link up!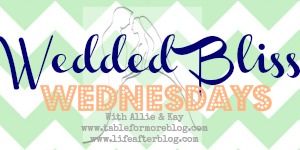 If money were NOT an option, what would you buy your husband for Christmas this year?
This one is actually tough! Jordan is the hardest person to buy for as is, because he wants nothing! He is always giving to others! He would much rather give to the needy then to receive anything for himself. If I had the chance I would probably just seriously donate money to the church. That would make him the happiest.
BUT, If I did choose to buy something for him it would be a vacation. Probably the beach or somewhere exotic. We would obviously take the kids since money would not be a problem. I would set up fun excursions for us to do each day and we would just relax and explore. Since the kids would be with us we would need it to be a longer vacation so we could relax as much as possible.
My answer was a tad boring but I love the fact that my hubs is so giving. It makes it hard to give him a gift but I love his heart and soul for how much he cares for others.
What is a holiday tradition that you and your husband do or plan to do each year? If you don't have any, what is an idea you could try out this year?!