Are holidays a tad stressful for you with fitting everyone in and making everyone happy??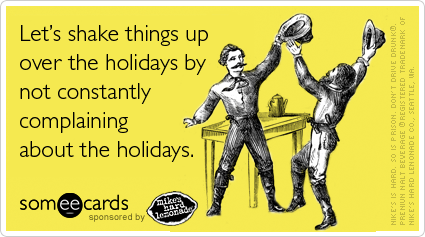 Jordan and I have both sets of parents divorced so have the ultimate hurdle to hop through on making it to all the holiday events and trying to fit it all in, while fitting in the needs of our children.
Before we had kids it would not phase us to just jump in the car and run here and there and everywhere, we could cover so much ground and didn't mind doing so. But throw in 1, 2, 3 and now 4 kids and things get trickier. We have learned a few things through the years and now the holidays are a breeze for us and also I think we do a good job of trying to get all our visits in! Here are a few tips to making the holidays not so stressful.
Holiday DATES.
This is one that I really do not get. I understand Thanksgiving is on a Thursday and Christmas is always the 25th, BUT, will it really make your time less important if you celebrate on a Friday or Saturday near those holidays? If your answer is yes, no offense you may need to rethink some things. Holidays are about spending time together with your loved ones, no matter how many hours or which date the calendar reads. We celebrate whenever we can, shoot I think we may even be celebrating "Christmas" with my parents when they are here when baby #4 arrives. And guess what, that is amazing to me. Having my parents here with our family and celebrating the love we all share and a good meal. Nothing gets better than that, no date or day of the week can change that. Therefore look at the calender and talk about other dates that may work other than the actual holiday date for you and your family to celebrate.
Compromise.
This doesn't just go for you and your husband, although that is the most important but also for your extended family. Switch off years for holidays if people are not willing to switch dates. Host the holiday at your house and invite both sides and knock it all out. I know this can be tricky with divorced families but for Easter we invite everyone, all our sets of parents and just go with it. It has yet to end with any drama, because thankfully our parents do well! haha! But hosting at your own home allows you to call all the shots, if you are not a great cook, ask people to bring things. Not every holiday has to be out of a Martha Stewart Living magazine.
Communicate.
This really is so important for you and your husband. This topic can make people very bitter and resentful which is why having a game plan is key. Holidays are NOT WORTH fighting over. There are so many ways to avoid the drama. The last person you want to be arguing with is your husband and at the end of the day, some people are just arguing over a day or date. Hence why I mention celebrating on different days. You also need to keep lines of communication open with your parents and in-laws, let them know your ideas and struggles and they should help. My parents have been so fabulous about holidays and really helped us because at the end of the day they do not care when they see us, they just want to see us. So keep the lines of communication open with everyone.
Be Honest.
I guess this goes with communicate and shouldn't be too hard but for things to go smooth, be honest. If you really don't want to spend the night away from your home on Christmas, tell your husband, don't just go along with it and be pissy the whole day. No one wants to be around a couple who is arguing on the holidays. Buzz kill. Speak up at the start when you guys discuss the holiday plans, don't just brush it off. Being honest, not just in this aspect but in your marriage is so key. Your husband can not always read your mind. So, be sure to speak up....or at least don't complain when the plans go how you discussed because you did not choose to speak up and be honest. Trust me, I used to be the timid girl who never spoke up!
Stick together.
Do not throw your spouse under the bus and say "this was his idea" or make snide remarks. Communicate from the start and stick to the plan. You are a united front together and made the decisions together. You did it in attempts to make everyone included happy so please do not throw your husband or wife under the bus. You are doing the best you can and trying to fit everyone in.
Those are really the tips we stick to. We plan early and give everyone heads up to make sure everyone knows our plans. I am very happy with our holiday game plan. We have been following the same one for the past few years and it works. This year is obviously kind of a cluster with throw baby #4 in right before Christmas but we will make it to as many events as humanly possible.
What are your tips for making everyone happy?? Or avoiding the drama??